100% HDPE + UV for sunshade proof of gardening and planting and privacy of balcony various designs
Product Detail
Product Tags
Design 1 : Shade Net / Agricultural Shade Net
Product Description
NO.1 Material : HDPE
NO.2 Weaving Method: Woven, yarn dyed (direct drawing and weaving of colored particles)
NO.3 Weight: 75-200GSM (as per customer's requirements)
NO.4 Width: Any size is available , for wide below 6 meters
NO.5 Color: Black , Green , White
NO.6 Packaging Way:roll packaging (10/25/50/100/150/200meters) ,Polybag , Woven bag , Carton (as per customer's requirements)
NO.7 function:In summer , sun proof,keep out rain,moisture,lower the temperature . and wind proof after covering in winter and spring, it also has a certain function of heat preservation , wind proof and humidification
NO.8 Application : Farm plantation shading / flower and fruit tree planting shading and wind proofing / Green house
Agricultural Application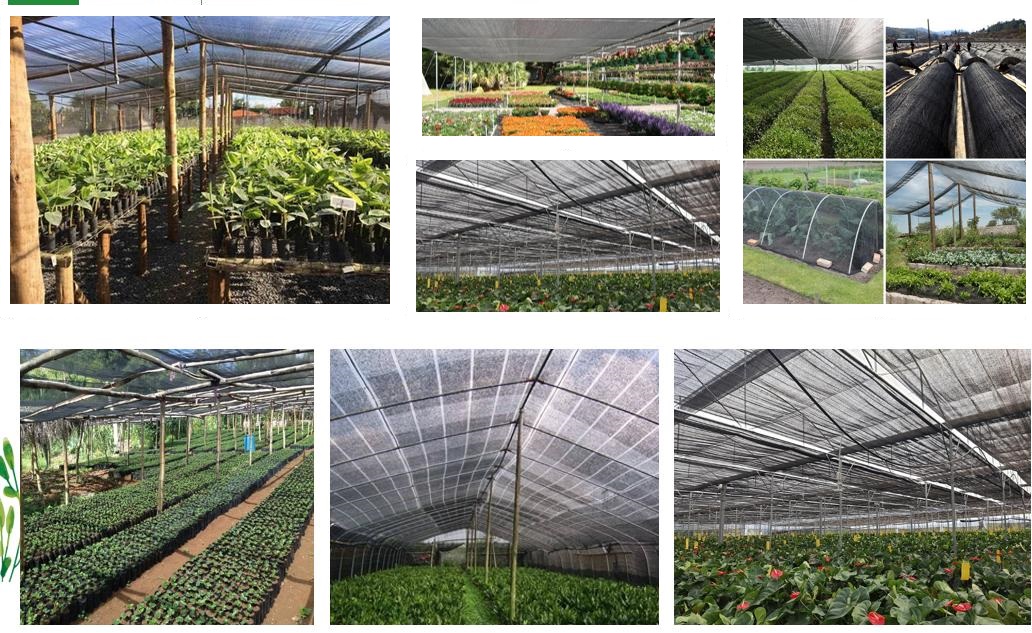 Shade Net Tips
NO.1 Color selection and application?
Black the shade net with the greatest choice of shade values & widths. Ideal for every application. Naturally resists the sun's harmful UV radiation with long life .
White shade net reduces heat build-up by reflecting the sun's powerful radiation. White's reflectivity has improved diffusion underneath. Aesthetically pleasing, common in greenhouse applications.
Green common in nurseries and other decorative/agricultural applications. Commonly found as windscreens, privacy screens, and tennis courts.
NO.2 Round and flat wires of shade net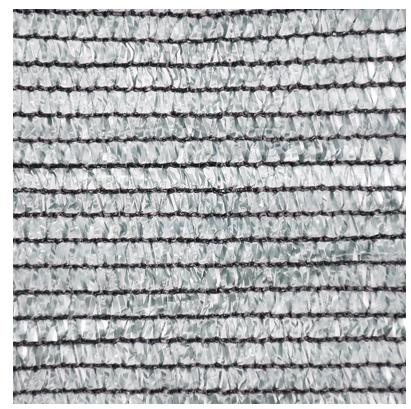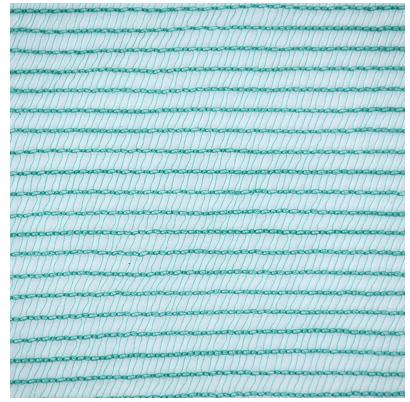 Since the shade net is cross woven by warp and weft, and is mainly woven by warp knitting machine, if both warp and weft are woven by round silk, it is a round silk sunshade.
The shade net made of flat silk woven by both warp and weft is called flat silk sun shading net. This kind of net generally has low gram weight and high sun shading rate. It is mainly used for sun shading in agriculture and gardens
Light Green Tape-Tape Shade Net
• UV Stabilized – These nets are made with high-quality UV stabilizers that impart brilliant strength to them. As a result, the Nets can work equally well under rigid climatic conditions and able to deliver functionality for long years.
• Eco-friendly – This is an exclusive feature of the net that makes them ideal to be employed for all sorts of agricultural applications. You don't have to worry regarding your crop quality as these nets are safe to use.
• Resistance to tear and breakage – The high tensile strength possessed by these nets make them long-lasting and unbreakable. The Nets do not get damaged or torn off and can be used for long years once installed.
Design 2 : Shade Net/ Privacy Net
Product Description
NO.1 Product Name: Privacy Screen Fence Net / Balcony Netting
NO.2 Material: 100% virgin polyethylene (HDPE)
NO.3 Weight: 13Ogsm , 150gsm , 160gsm , 170gsm , 180gsm , or customized
NO.4 Color: Black , green , rice white , brown or customized . blue and white striped , yellow and white striped , gray and white striped , green and white striped
NO.5 Size: 1*4' 1*6',3*10',4*25' or customized
NO.6 function:
• Resists mold and mildew • Easy to clean with soap and a garden hose • Can be used for both residential and commercial applications • Good ventilation of the fabric • Knitted button holes (optional) • Lowers the temperature underneath it • Light Weight and Easy Storage
NO.7 Application : Sports ground , Garden , Balcony , Swimming pool and other places requiring privacy protection.
Privacy application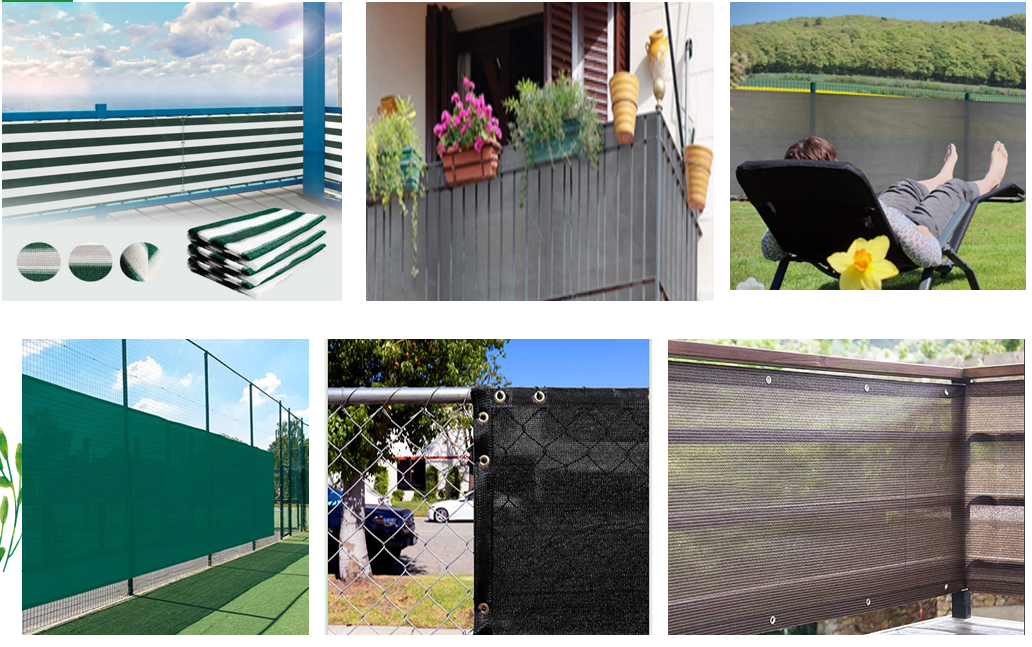 98% Shade Netting for Privacy can protect from the harmful effects of the sun or prying eyes!
Used overhead or as a vertical privacy screen you can provide a shady area which is still pleasant to be in! 98% shade is good protection!
Privacy net for attaching to residential or commercial fencing for added privacy, security and shade.
BaiAo privacy/shade net will stand the test of time, weather resistant and UV stabilised, the breathable weave of the fabric allows air to flow through keeping you and your pets animal runs cooler in summer when fixed overhead. Not only can our privacy/shade screens be used on fencing or as balcony screening but are the perfect choice around swimming pools, tennis courts, play areas, green houses, polly tunnels, fruit cages, carports, and commercial areas where safety and security is needed.
Note that it is possible to see through this privacy netting to a small extent - although vision is considerably obscured! The % rating refers to Shade. No rating is available for Privacy Netting. Please ensure this is installed with sufficient and appropriate fixings to withstand wind particularly in exposed installations
Design 3 : Shade Net / Outdoor Sunshade Net
Product Description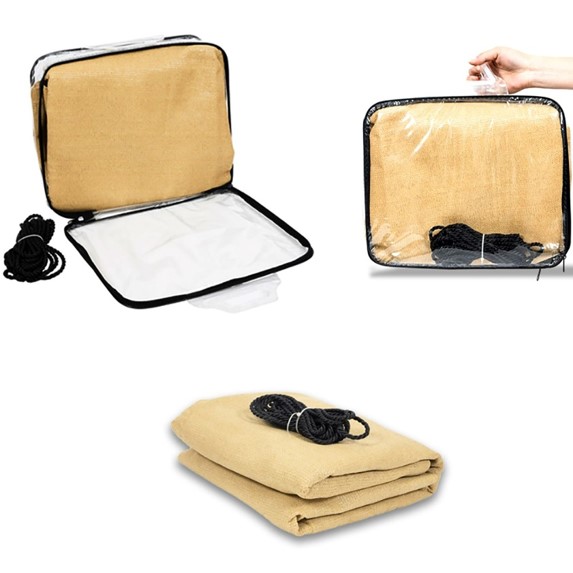 Product Name: Shade Sails Net
Material: 100% HDPE+UV
Weight: 30g/m2-460g/m2
Shade Rate: 30%-95%(shade net)
Width: Max 8m(shade net)
Length: 30m,50m, or 100m or as customer's requirement
Color: Black ,Light Yellow ,Light Brown or as customer's requirement
Packing: One roll packed in one per bag and one label on it or as customer's requirement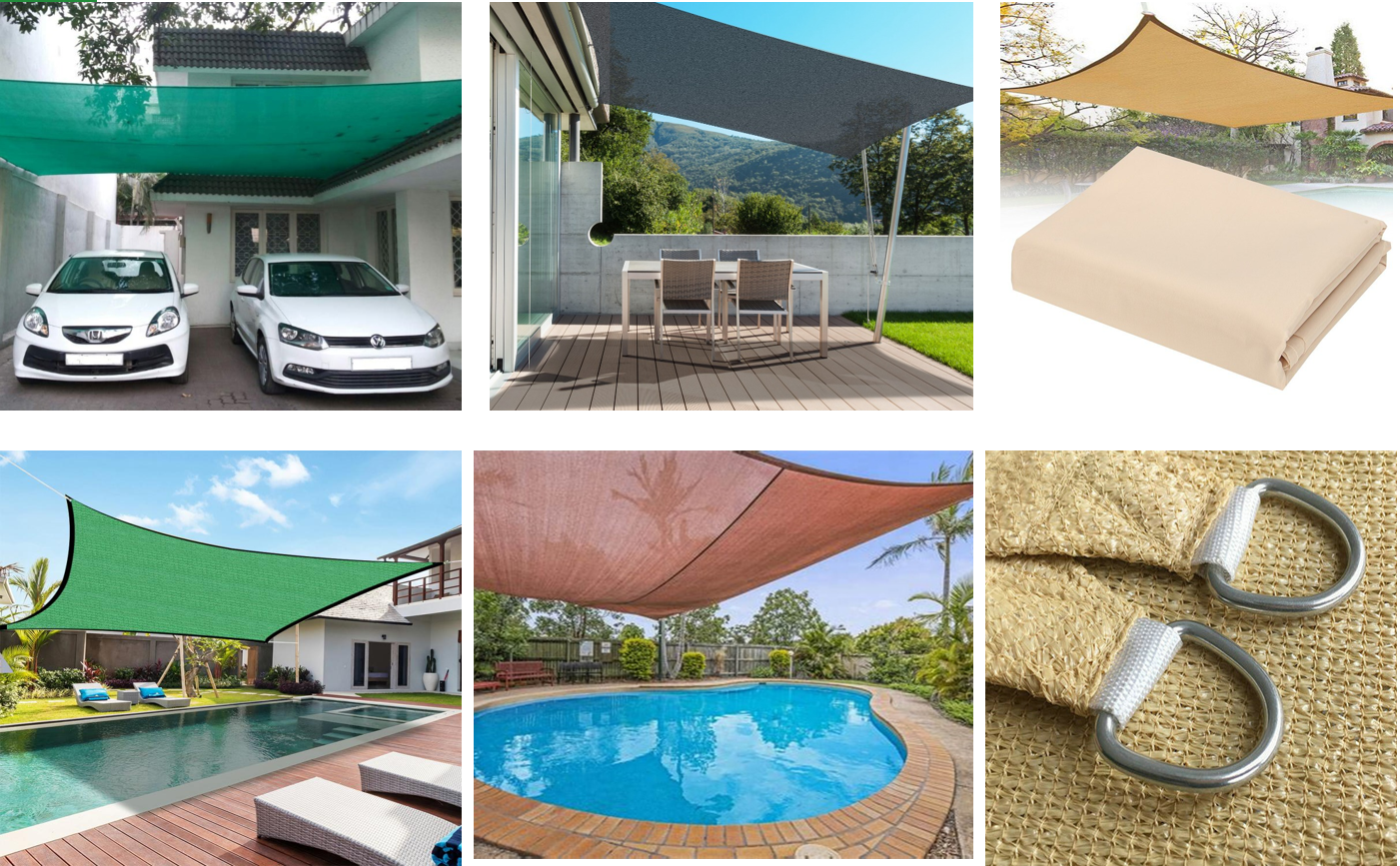 Product Advantages
Installation — All shade cloth comes with a grommeted border allowing for easy installation . High-density polyethylene (HDPE) shade cloth is also 20-25% lighter than woven styles.
Ventilation and water permeation — The open lockstitch design allows for water permeation and ventilation while reducing wind speed and heat build-up.
Construction — Shade levels are constant throughout product life, and the lockstitch-knitted design resists ripping, tearing and fraying.
UV Protection — High-density polyethylene is UV-resistant .
Chemical resistance — HDPE shade cloth resists horticulture chemicals, sprays and detergents .
Moisture protection — Less evaporation prevents a loss of moisture .
Cost effective — No edge taping and minimal sewing are required thanks to knitted lockstitch.
Shade Net Tips
To make it easy to select the most suitable UV block for your application . BaiAo shade net is broken into 3 tiers: Garden Cover (50% UV block), Screening (70% UV block) and People Cover (90+% UV block).
What colour shade sail is best?
The argument is if you are looking for maximum cooling and UV protection a dark-colored shade will be the best option. Dark colors like our navy blue, black or brown, will absorb more UV rays, thus making the area underneath the shade cooler.
What does GSM stand for in shade net?
High density polyethylene shade sails are weighted in grams per square meter(gsm) and usually range from around 120 gsm to 340 gsm. A shade sail using a 340 gsm fabric will be a more densely knitted fabric than a 200 gsm fabric. The denser the fabric, the higher the UV protection.
---
Previous:
weed control mat/ ground cover/weed barrier fabric for agricultural pp/pe material customized
Next:
Shade Sails Net HDPE high-strength triangle rectangular and square for garden outdoor pool parking
---
Write your message here and send it to us