Ground Cover Landscape Fabric Control Weed Heavy Duty Weed Block Cover for Garden Yard Landscape Weed Control
Product Detail
Product Tags
Product Name: Weed Control Mat, Ground Cover, Landscape Fabric, Weed Barrier fabric, Filter fence
Weight: 70g/m2 – 200g/m2
Material: Polypropylene
Using life: 3 – 5 years
Delivery time: 2-5 days for free sample, 25-35days for order
Applications:
Strong and durable, anti-corruption, Inhibition of insect pest.
No chemicals so that without damaging the ecosystem of you garden.
Perfect for agriculture and gardens, under decking, pathways, drives, flower beds, landscaping.
Weed-control and keep soil moist and ventilation, thus conserving your soil's moisture and preserving its value, does not affect the growth of the crops.
Against UV deterioration, which provide you with excellent weed protection for a long time to come, long serving time, which can give 2-5 year guarantee time.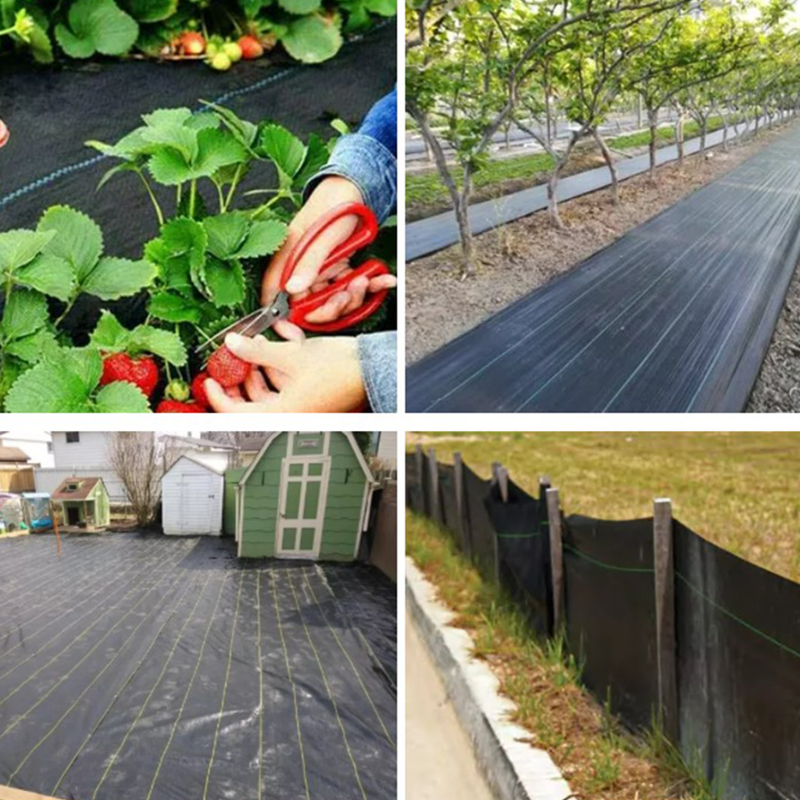 Weed barrier fabric, also known as "garden floor cloth", "weed control mat" and "grass control cloth", is a kind of vertically and horizontally woven plastic woven cloth. It is a kind of gardening and agricultural ground grass proof cloth with good air permeability, fast water seepage and weed control.
It can effectively prevent the growth of all kinds of weeds. Because of its good air permeability and fast water seepage, the grass proof cloth on the ground can improve the water absorption capacity of the plant roots, which is beneficial to the growth of plants and prevent the root from rotting. The setting of monophase line marks can make it possible to accurately arrange flower pots or planting substrates according to the marking lines in the greenhouse or outdoors, so as to improve labor efficiency, The grass proof cloth can be used in vegetable greenhouses and flowers planting to prevent the growth of weeds. It does not use harmful crops such as herbicides, and can really produce green food,
At the same time, the product can be recycled to achieve the goal of waste reduction and environmental protection. The grass proof cloth is suitable for plastic greenhouses, glass greenhouses and other vegetable and nursery stock sheds, as well as various orchards and nursery stock bases for grass proof, insect proof, moisture preservation, air permeability, water permeability and other special fruits. The high-strength reflective effect of the white grass proof cloth promotes the sun's light from top to bottom of the plant leaves, making the fruit trees, seedlings and flowers more beautiful and lasting, Make the fruit grow attractively.
Instead of herbicides such as paraquat, it really realizes green, environmental protection and pollution. Straw proof cloth can be customized according to the requirements of different sizes, densities, colors of products, maximum satisfaction with customer demand.
---
Previous:
Growing Bags 9/18/25/36/Planting a pocket Outdoor Fabric Wall Hanging Planter Felt Pocket Vertical Hanging Bag
Next:
---
Write your message here and send it to us
Products categories