At present, many agricultural planting bases are laying weed barrier fabric. It is inevitable to encounter various problems when laying it. It is often windy in many areas. It is very important to fix the weed barrier fabric. How to fix weed barrier fabric? Here are three methods.
1、 Soil fixation method: This method is relatively economical, but it is troublesome to fix, and takes a long time to work. In addition, some fruit trees need to be fertilized once a year, so it is necessary to lift up the weed barrier fabric and fix it again. In fact, the work of going round and round is also a big expense. In addition, it is easy to provide a production environment for weeds by fixing the weed barrier fabric with soil. Although there is no grass under the cloth, there is soil on it, which will inevitably grow some weeds. It looks very ugly overall.
2、 Fixing method of plastic ground nail: This is a relatively simple fixing method. It is a kind of plastic ground nail with barbs. The service life is about 5 years, and the cost is about 0.1 yuan/piece. Generally, a 16 cm long ground nail is used, and one nail is enough between 1-1.5 meters. The disadvantage of this fixed fabric is that it is easy to tear the fabric. When you need to lift weed barrier fabric for fertilization, you must pull out the ground nail, because the barbed structure of the ground nail itself is easy to break the warp and weft of the weed barrier fabric when pulling out, thus shortening the service life of the weed barrier fabric.
3、 Fixing method of U-shaped ground nails: U-shaped ground nails are only made of carbon steel. The outside of the U-shaped ground nails is cold galvanized to ensure its service life. Generally, they can be used for about 4 years. However, the price of the ground nails is too high, so they are often used with plastic ground nails. The U-shaped ground nails are used on the outside of the weed barrier fabric, and the plastic ground nails are used in the middle. This ensures the problem of fixing the weed barrier fabric, The second is to solve the problem of hanging the weed barrier fabric when the plastic ground nail is pulled out.
Introduction to our floor nail
1.Product Name: The U-shaped ground nail
Material: Hot dip galvanized steel wire
Size: 100mm*40mm ,150mm*40mm , 200mm*40mm (customization)
Product Features: Selected materials, high strength, high toughness, not easy to break, reusable
Application: It is used to fix greenhouses, dust-proof nets, shade netting and weed barrier fabric to prevent them from being blown away by the wind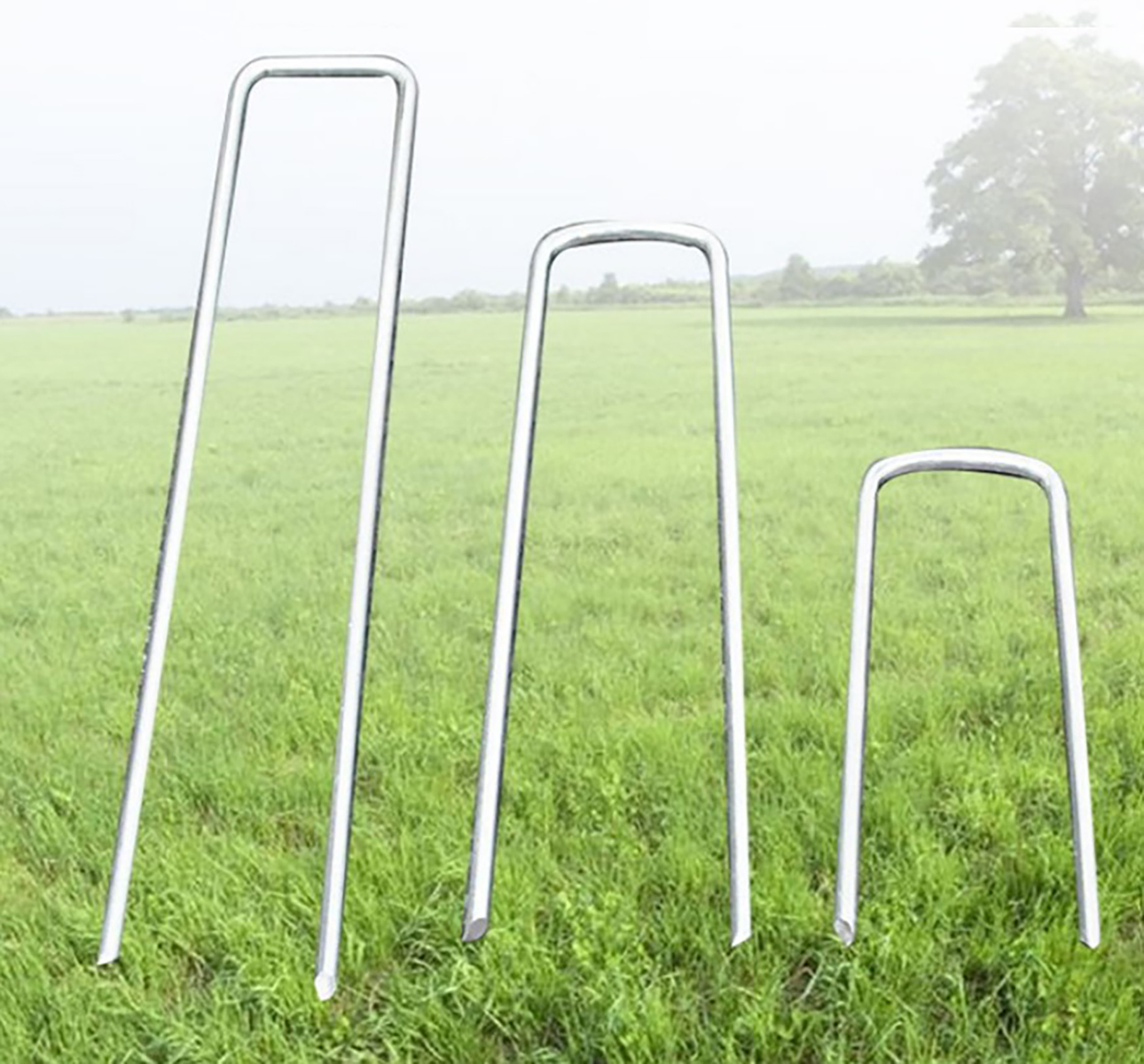 2.Product Name: The plastic ground nail
Material: PP
Size: 12CM, 16CM, 20CM
Color: Black, green
Product Features: oxidation resistant, reusable
Application: It is used to fix greenhouses, dust-proof nets, shade netting and weed barrier fabric to prevent them from being blown away by the wind
---
Post time: Sep-16-2022